Upcoming Events
Accommodation and Tourism Leaders Boardroom Breakfast Briefings

AHA is launching an exciting new series of exclusive breakfast briefings that will place our members in the inner circle, accessing senior Federal and State Parliamentarians, key policy-makers, influencers and industry leaders.
Members will have the opportunity to be updated on relevant and critical issues facing our industry and engage with speakers in an intimate boardroom setting.
These briefings will complement the program of regular meetings for Accommodation Hotel and Tourism General Managers.
Numbers for these events will be capped so be sure to respond quickly to the invites to secure your place and avoid disappointment.
An AHA-TAA Accommodation and Tourism Leaders Boardroom Breakfast Briefing was held on Wednesday 1 November 2017 with a guest presentation from Reg Howard-Smith, Chief Executive of the Chamber of Minerals and Energy.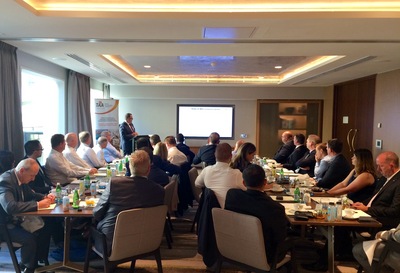 Hotel General Managers received valuable insight from Mr Howard-Smith into the current state, and future forecast, of the resources industries in WA.
Mr Howard-Smith outlined the significant contribution the mining and resources sector has to employment in the state. He also presented information on sales and where growth is expected. He assured general managers that "green shoots are there" and the market is improving, though WA will not see another boom in the near future. This is important information for general managers as they plan for future accommodation demand and where to priorities their marketing strategies.
The AHA would like to thank the InterContinental Perth City Centre for sponsoring and hosting this event.