Hospitality Expo and Conference
Due to the unfolding situation with respect to COVID-19, we regret to inform you that the 2020 AHA Hospitality Expo and Conference will be postponed until April 2021.
This includes the postponement of the 2020 AHA Hospitality Supplier and Legends Awards, the 2020 AHA WA's Best Steak Sandwich Competition and all associated events.
We understand the current situation is imposing severe challenges on our industry and we continue to support you in any way we can.
For ongoing information and updates, please refer to our daily bulletins. For specific queries relating to events and corporate affairs, please contact Tim Badham at crm@ahawa.asn.au
---
2021 WA HOSPITALITY EXPO & CONFERENCE

Tuesday 13 April & Wednesday 14 April 2021 - Crown Perth

Hospitality Expo and Conference is Western Australia's largest annual hospitality convention featuring an exclusive two day industry only tradeshow as well as innovative business sessions and a range of networking events. The tradeshow consistently attracts over 2,000 industry delegates.
To view the 2019 Steak Sandwich photos please click here.
To view photos of the Hospitality Expo please click here
Exhibit at the 2021 AHA (WA) Hospitality Expo
If you would like to exhibit at the 2021 Australian Hotels Association Hospitality Expo, please contact Tim Badham Corporate Partnership & Events Manager crm@ahawa.asn.au
---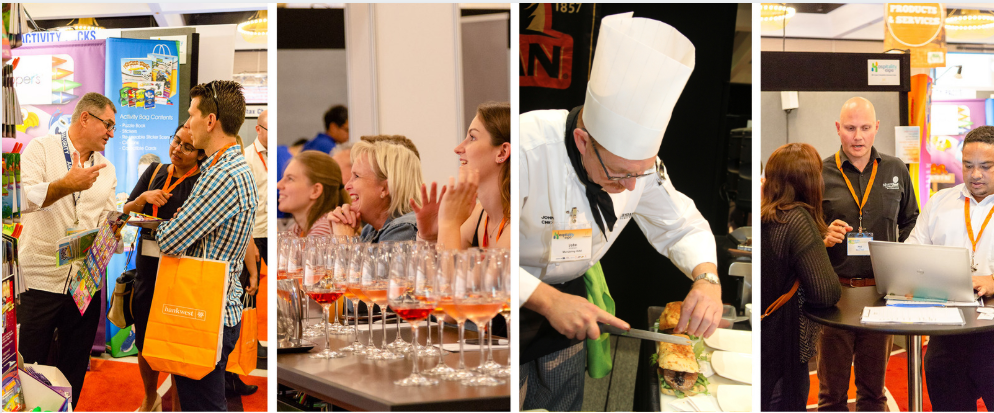 Hospitality Expo is WA's largest annual hospitality trade conference and expo.
You will see, hear and experience the best and latest for WA's hospitality industry over two huge days.
Over 100 industry suppliers showcase premium hospitality products and services from apparel, coffee and furniture to hotel equipment & supplies, security and wine.
Proudly supported by Advans Exhibition Services for over 18 years

WHAT HAPPENS AT HOSPITALITY EXPO?
Exhibitors
The AHA Hospitality Expo offers visitors with access to WA's leading hospitality products and services. This two-day event showcases cutting edge technologies, the latest in beverages, fresh produce and high-quality venue equipment. The Expo will feature numerous interactive displays and demonstrations of products from over 100 industry suppliers.
Master Classes
Experience interactive and educational sessions delivered by industry experts. These master class sessions are free and open to all trade show attendees.
More information and registration will open soon.
Steak Sandwich Competition Cook-Off
Hospitality Expo is home to the biggest Steak Sandwich Competition in the country. Semi-finalists are determined from a public vote and the 'cook-off' takes place during the Expo to determine a Country WA and a Perth finalist.
Country WA cook-off - Crown Perth
Perth cook-off - Crown Perth
For more information about the Steak Sandwich Competition, visit www.hospitalitywa.com.au
Who attends?
Owners, operators, decision makers, managers, chefs and front of house staff from:
Accommodation Hotels & Resorts | Cafés | Catering & Food Services | Clubs | Education Centres | Hotels | Liquor Stores | Motels | Restaurants | Small Bars | Taverns | Tourism Venues
Click here to download the Exhibitors Prospectus
How much does it cost?
Entry is free if you pre-register before Friday 1 April 2021. Entry is restricted to trade-only*. Registrations opens mid-February 2021.
Date and times
Tuesday 13 April 2021 – 11.30am to 6pm
Wednesday 14 April 2021 – 11.30am to 5pm
Location
Crown Perth (Grand Ballroom)
Great Eastern Highway
BURSWOOD WA 6100
Parking
Crown Perth offers a range of free, paid, undercover and open car parks, including over 3,000 free parking bays available across the resort.
Accommodation
Stay the night at one of Crown's hotels and take advantage of exclusive rates for the AHA's Hospitality Conference & Expo. For further information in relation to exclusive rates will be released shortly.
Conditions of Entry
*Strictly trade only: Entry is restricted to professionals in the WA hotel, liquor and hospitality related industries. Admission will be refused to the general public. Hospitality suppliers who are not registered exhibitors, or AHA(WA) Corporate Members will not be permitted entry to the event. The AHA(WA) reserves the right to refuse entry or remove anyone who is not a registered exhibitor, AHA WA Corporate Member or professional in the WA hotel, liquor and hospitality related industries. No admission to persons under 18 years of age. Proof of age and business identification may be required. The AHA (WA) reserves the right to refuse entry to or remove from the premises any person whose conduct is objectionable, disorderly, disruptive, or in violation of any law. In addition, this applies to any unauthorized hawkers.