2020 Bankwest WA Hospitality Supplier & Legends Awards
Monday 11 May 2020
Crown Perth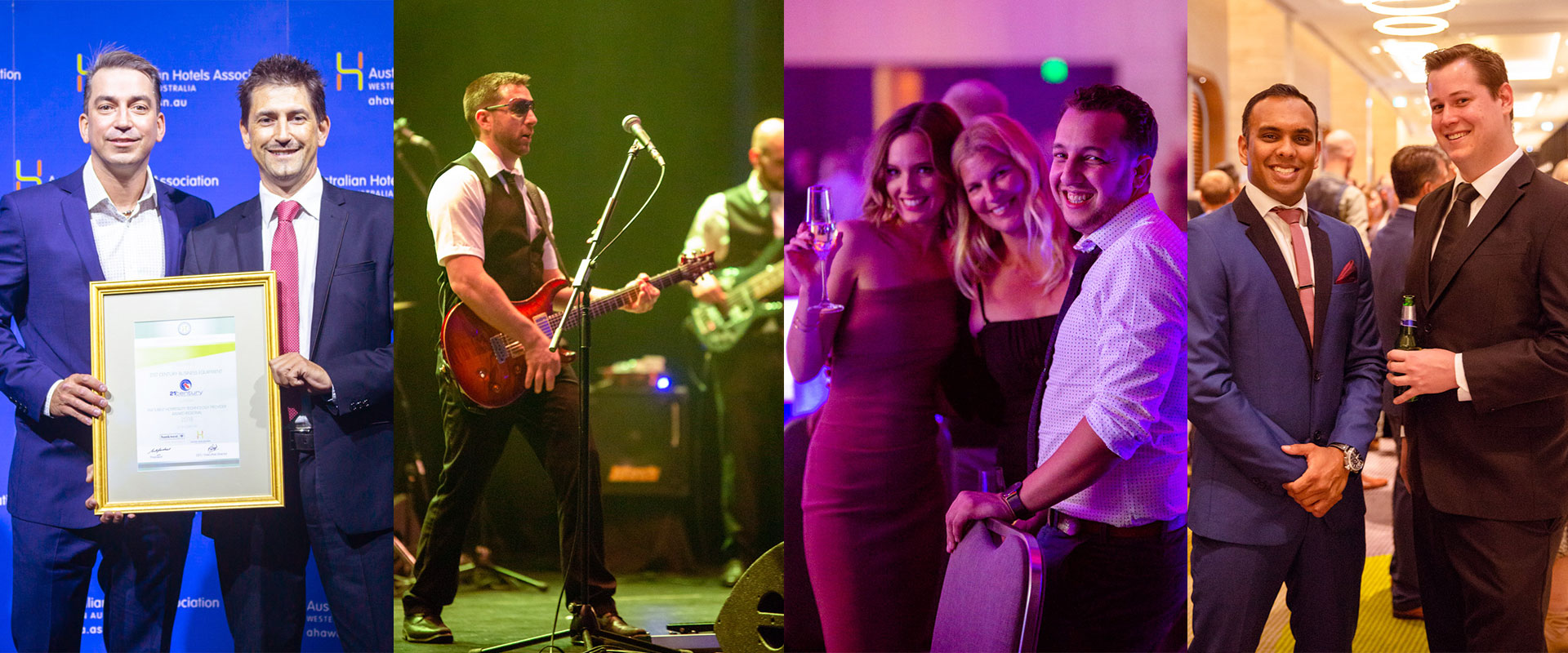 2020 NOMINATIONS NOW OPEN!

The 2020 WA Hospitality Supplier and Legends Awards will be held on Monday 11 May 2020, at Crown Perth. This event will mark the official opening of the 2020 Hospitality Expo - Western Australia's largest annual hospitality conference and expo.
The awards showcase outstanding suppliers, promotions, products and services that are provided to WA's hospitality sector.
KEY DATES:
FRIDAY 14 FEBRUARY 2020 - NOMINATION CLOSE
FRIDAY 28 FEBRUARY 2020 - VOTING OPENS
FRIDAY 13 MARCH 2020 - VOTING CLOSES
MONDAY 11 MAY 2020 - AWARDS DINNER AT CROWN PERTH
2020 WA Hospitality Supplier Awards Nominations
WA'S BEST SUPPLIER AWARDS 2020
*Please select which category (1-14) suits your business best
HOSPITALITY FURNITURE SUPPLIER AWARD
HOSPITALITY EQUIPMENT SUPPLIER AWARD
HOSPITALITY TECHNOLOGY PROVIDER AWARD
HOSPITALITY PRODUCT SUPPLIER AWARD
HOSPITALITY SERVICE PROVIDER AWARD
FOOD SUPPLIER AWARD
NON ALCOHOL BEVERAGE SUPPLIER AWARD
BEST BOUTIQUE BEVERAGE SUPPLIER AWARD
BEER SUPPLIER AWARD
WINE SUPPLIER AWARD
SPIRIT SUPPLIER AWARD
ACCOMMODATION HOTEL SUPPLIER AWARD
RESTAURANT SUPPLIER AWARD
SMALL BAR SUPPLIER AWARD
PUB & HOSPITALITY VENUE SUPPLIER AWARD
PRODUCT & PROMOTION AWARDS 2020
Products and promotions between February 2019 - January 2020
*Maximum 2 entries per company per promotion category
* Nominations must be accompanied with promotional material (flyers, e-marketing, social media posts, etc.)
ON PREMISE BEVERAGE PROMOTION AWARD
BOTTLESHOP PROMOTION AWARD
NEW ALCOHOLIC PRODUCT AWARD
NEW HOSPITALITY PRODUCT AWARD

2020 WA Legends of Hospitality Award Nomination
All too often the media focuses on industry hardships and challenges so it is time to turn the tables and acknowledge achievement by identifying our 'Legends of Hospitality'.
These are operators whose personal contribution has made a lasting impact on the local community in which they are based and who help advance the state's hospitality industry more broadly.
Who is eligible?
A person who has operated a hospitality venue in one of the following categories:
Pubs, Taverns & Hospitality Venues
Restaurants
Bars

Sponsorship Opportunities
Interested in becoming a sponsor for this event? Contact Tim Badham on 08 9321 7701 to discuss further.