WA's Best Country Pub Steak Sandwich Competition 2009
2009 WINNER ANNOUNCED!

Congratulations to the winner, Chef Beth Allen from The Mundaring Hotel!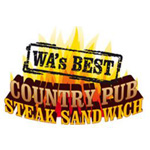 The five finalists competed in the 2009 Steak Sandwich grand final cook-off at Hospitality Expo 2009 Burswood Entertainment Complex at 2pm on Wednesday 20 May.

The Mundaring Hotel's steak sandwich was judged the best of five finalists by a panel consisting of Channel 9's Dixie Marshall, Fremantle Football Club President, RickHart, Lion Nathan's Leith Putland and Spice Magazine's Jeff Atkinson.
The panel crowned The Mundaring Hotel as the overall winner of the title '2009 WA's Best Country Pub Steak Sandwich'. Chef Beth Allen won the panel and the crowd over with her steak sandwich.
Congratulations to the finalists below:
Colonial Brewing Company, Margaret River
Mundaring Hotel, Mundaring
The Club Hotel Southern Cross, Southern Cross
The Last Chance, South Hedland
Southerlys Harbour View Bar & Restaurant, Port Denison

2009 Nominees
South-West Region
Albie's Bar & Bistro
Colonial Brewing Company
Premier Hotel Albany
Red Rabbit Inn
Southern Forests Hotel
Tanglehead Brewing Co
North-West Region
Divers Tavern
Hotel Kununurra
Karratha Tavern
Kimberley Hotel
Last Chance Tavern
Matso's Broome Brewery
Pannawonica Tavern
Coral Coast Region
Bootenal Family Tavern
Coral Bay Hotel
Miners Arms
Ronsard Bay Tavern
Southerlys Harbour View Bar & Restaurant

Experience Perth Region
Dwellingup Community Hotel
Mundaring Hotel


Australia's Golden Outback
Gibson Soak Hotel
Lake King Tavern
Ora Banda Historical Inn
Quindanning Tavern
Recreation Hotel
Rock Tavern
The Club Hotel Southern Cross
The Corny Hotel
The Kalgoorlie Hotel
Yealering Hotel
York Hotel