Novel Coronavirus Updates
Current as at 9:20AM 24 February 2020
Click the image below to view the Johns Hopkins University heat map that updates the number of confirmed coronavirus cases around the world.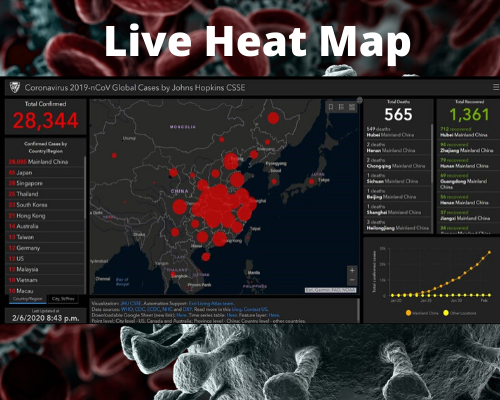 The AHA is constantly monitoring the Coronavirus situation working closely with the Commonwealth and WA Government on strategies to help avert the effect that the situation will have on tourism by:
Maintaining constant contact with Tourism Australia and Tourism Western Australia;
Monitoring Commonwealth Department of Health and World Health Organisation advice; and
Participating in industry crisis co-ordination task forces at a State and National level.
Click the icons below for more information:
Health Advice for Hotel and Hospitality Industry
As of 31 January the World Health Organisation (WHO) has now declared the coronavirus outbreak as a Public Health Emergency of International Concern. You can read more about the WHO declaration here.
The Australian Government's Department of Health has issued updated fact sheets for hotels, guest and hotel staff. Hotel management should provide information and brief all employees and contract staff, including domestic and cleaning staff, on relevant information and procedures to prevent the spread of 2019-nCoV to people in the hotel setting.
Managing guests
The Department of Health have provided a dedicated phone number for WA venues to call if you require more information. Please call (08) 9328 0553 or for contact details for your local public health unit, please click here.
Chief Medical Officer Advice to Hotels
Australia's Chief Medical Officer, Professor Brendan Murphy has provided advice to Hotels regarding the virus and how it should be managed. Click here to see.
Health and Safety Protocols
Click here for information regarding Coronavirus and Food Safety.
Health and Preventative Advice from the World Health Organization (WHO)
The World Health Organization (WHO) has been working with Chinese authorities and global experts to learn more about the virus, how it affects people, how they can be treated, and what countries can do to respond.
Because this virus usually causes respiratory illness, WHO has advice to people on how to protect themselves and those around them from getting the disease.
WHO's recommendations for the general public are as follows, which include hand and respiratory hygiene, and safe food practices:
Frequently clean hands by using alcohol-based hand rub or soap and water;
When coughing and sneezing cover mouth and nose with flexed elbow or tissue – throw tissue away immediately and wash hands;
Avoid close contact with anyone who has fever and cough;
If you have fever, cough and difficulty breathing seek medical care early and share previous travel history with your health care provider;
When visiting live markets in areas currently experiencing cases of novel coronavirus, avoid direct unprotected contact with live animals and surfaces in contact with animals;
The consumption of raw or undercooked animal products should be avoided. Raw meat, milk or animal organs should be handled with care, to avoid cross-contamination with uncooked foods, as per good food safety practices.
Click here to preview and print WHO's health signage to display in staff back of house areas.
Travel Restrictions and Government Response
Click here to view ?Australian Government travel restrictions as at 1 February 2020.
On Thursday 20 February 2020, Prime Minister Morrison announced that in order to protect Australians from the risk of coronavirus, entry restrictions on foreign nationals who have recently been in mainland China will again be extended for a further week to 29 February 2020.
Both China Eastern Airlines and China Southern Airlines have cancelled direct flights from mainland China to Perth due to the outbreak.
China Eastern was conducting direct flights from Shanghai to Perth as part of a month-long trial, but the service ceased after an inbound flight on 7 February 2020.
China Southern's permanent service was cancelled after incoming flights on 7 February 2020 and 10 February 2020 and will not resume until the end of March.
Global UPDATE
New cases of coronavirus and death outside of China
There are now over 78,000 confirmed cases of the coronavirus across 28 countries (Japan, Republic of Korea, Russia, Singapore, Hong Kong, UK, India, Taiwan, Macau, Vietnam, Italy, Australia, Malaysia, Nepal, Spain, Finland, Sweden, Cambodia, Thailand, Nepal, Sri Lanka, Canada, France, Germany, United Arab Emirates, Finland, Belgium and the USA).
The death toll is now over 2,300 in China. Outside of China, the prevalence of the virus remains far lower, but there are now a number of countries with dozens of confirmed cases. Two people have died outside mainland China since the outbreak began. One in the Philippines, and another in the semi-autonomous Chinese city of Hong Kong.
Australia's first case was diagnosed on January 25, and now 22 people in Australia are confirmed to have the virus.
Airlines suspending or reducing flights to China
A number of international airlines have announced plans to suspend or reduce flights to and from mainland China Yesterday, British Airways suspended all flights to and from Beijing and Shanghai with immediate effect until 31 January and has suspended all bookings until 29 February citing the travel advice of the British foreign office. Many others have followed suit with flight reductions or reduced service.
Qantas has suspended their two direct services between mainland China and Australia (Sydney-Beijing and Sydney-Shanghai) from 9 February until 29 March 2020, due to the entry restrictions imposed by countries including Singapore and the United States. There are no changes to our services between Australia and Hong Kong, as it's exempt from current travel restrictions. For more information regarding Qantas services, please click here.
China UPDATE
All group travel from China suspended from 27 January 2020
It has been announced by the central government in China that all group travel from China has been suspended from 27 January globally, and reports suggest this ban will remain in place until at least 31 March 2020. 30 Chinese cities and provinces have launched Level I emergency response, while Hong Kong has declared its "highest" emergency response.
Australia UPDATE
The number of confirmed cases of coronavirus in Australia continues to rise
As at 24 February 2020, we have 22 confirmed cases of coronavirus (COVID-19) in Australia:
8 in Queensland
4 in New South Wales
6 in Victoria
3 in South Australia
1 in Western Australia
10 of these cases are reported to have recovered. The remaining cases are in a stable condition.
7 cases are passengers who were on the Diamond Princess repatriation flight from Japan. They were in quarantine at the Manigurr-ma Village Howard Springs facility in Darwin when they tested positive to coronavirus (COVID-19).
6 of these people have returned to their home states for medical treatment. One person will be transported to Queensland today.
Australian Government announces new travel restrictions
The Australian Government has announced that as of 1 February 2020, all travellers arriving from any part of mainland China, regardless of nationality, will be subject to enhanced border control measures to ensure the health, safety and well-being of the Australian community.
Australia will deny entry to anyone who has left or transited mainland China from 1 February, with the exception of:
Australian citizens
permanent residents
immediate family members of Australian citizens and permanent residents including spouses, minor dependents and legal guardians
Limited exemptions also exist for airline and maritime crew, where they have taken appropriate precautionary measures.
These enhanced public safety measures will apply to those seeking to enter Australia as well as those seeking to transit through Australia en route to another country.
On Thursday 20 February 2020, Prime Minister Morrison announced that in order to protect Australians from the risk of coronavirus, entry restrictions on foreign nationals who have recently been in mainland China will again be extended for a further week to 29 February 2020.
Australian authorities upgrade travel advice to China
The Australian Government has upgraded its travel advice in the wake of the coronavirus outbreak to include all of mainland China to level four, "do not travel".
The Department of Foreign Affairs and Trade (DFAT) has advised Australians not to travel to China due to the "escalating threat" of the virus, while asking those who have returned from the country to self-isolate for 14 days.
How to prevent the virus spreading - Australian Health Protection Principal Committee (AHPPC)
While the evidence for pre-symptomatic transmission is currently limited, AHPPC has advised a highly precautionary approach and released the following new recommendations:
People who have been in contact with any confirmed novel coronavirus cases must be isolated in their home for 14 days following exposure;
Returned travellers who have been in Hubei Province of China must be isolated in their home for 14 days after leaving Hubei Province, other than for seeking individual medical care;
Given the lower number of cases in China reported outside of Hubei province, AHPPC does not currently recommend self-isolation for travellers from other parts of China or other countries. AHPPC is closely monitoring the development of cases outside of Hubei province and will update this advice if necessary.
Symptoms to look out for, and where to report if you or a guest are experiencing them
The virus can cause a range of symptoms, ranging from mild illness to pneumonia. People may experience fever; flu like symptoms such as coughing, sore throat and headaches; and difficult breathing in some cases.
If you, or one of your guests, become unwell and suspect symptoms of coronavirus, medical treatment should be sought out immediately. Attached are some factsheets from the Department of Health that provide further information on how you can report. In the FAQs document attached, there is a list of the public health information line, and other numbers you can call for advice.
Reference Point & Factsheets
The attached factsheets are from the Department of Health. There is a lot more information on their site, but we have attached some of the most relevant factsheet for ease of access. Please check their website for more detailed information.
Tourism Australia – Insights
Tourism Australia
TA is monitoring the situation very closely, and we can reasonably expect the group travel ban will have an impact on future Chinese travel to Australia. To what extent we don't know at this stage, and we will not be speculating publicly at this point in time. TA has updated its website to include information on the outbreak and links to relevant websites where travellers can access the latest health and travel advice.
Assessing impact on tourism sector – please continue sending insights to us
We are gathering updates to help assess the impact on the Australian tourism sector, and will come back to you when we have more information to assist industry in managing this crisis and making decisions. Any insights or data from you would be helpful for us to include in our analysis.
Critical Coronavirus Situation Reports and Travel Advice
The World Health Organization (WHO) produces daily Novel Coronavirus (2019-nCoV) situation reports. For details see here.
Updated WHO advice for international travel in relation to the outbreak of the novel coronavirus see here.