Novel Coronavirus Updates
COVID Safety Plan and Assistance Template
This afternoon the WA Government released the long-awaited COVID Safety Plan, which is a mandatory requirement for venues who wish to re-open on Monday 18 May.

The COVID Safety Plan has been designed to protect staff and customers. Businesses will need to ensure their COVID Safety Plan is completed and available on site for inspection at the request of authorised officers.

To access the COVID Safety Plan, please click here.
Current as at 11.00am 3 June 2020
Click the image below to view the Johns Hopkins University heat map that updates the number of confirmed coronavirus cases around the world.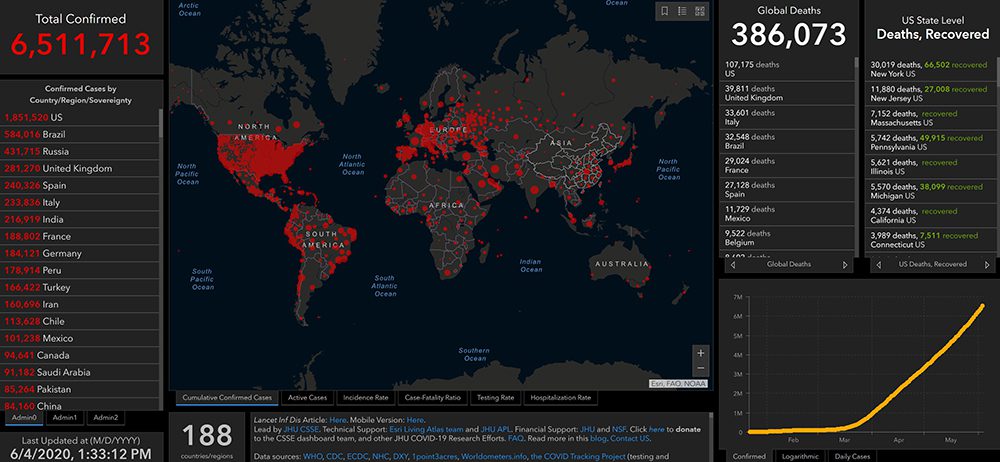 The AHA is constantly monitoring the Coronavirus situation working closely with the Commonwealth and WA Government on strategies to help avert the effect that the situation will have on tourism by:
Maintaining constant contact with Tourism Australia and Tourism Western Australia;
Monitoring Commonwealth Department of Health and World Health Organisation advice; and
Participating in industry crisis co-ordination task forces at a State and National level.
Click the icons below for more information:


Current Restrictions
Phase 3 of WA's roadmap to commence on 6 June 2020
Premier Mark McGowan has announced that from Saturday 6 June 2020, WA will enter phase 3 of WA's four-phase roadmap.
This is a critical milestone for WA's hospitality industry and will result in many hospitality venues re-opening their doors and significantly lifting their patron capacity.
Please find below details of the phase three restrictions, including a set of Frequently Asked Questions that should address the majority of questions you might have. We continue to liaise with the State Government on a few outstanding details regarding the restrictions – where you have a specific query, we kindly ask that you please send an email to Mike Andrew at membership@ahawa.asn.au.
Phase 3 COVID Safety Guidelines — please read these before completing your plan
Phase 3 COVID Safety Plan is completed by the person responsible for the premises
Display a COVID Safety Plan Certificate in a visible location on the premises — this is included in the plan
Phase 3 restrictions
The 4 square metre rule is revised to 2 square metres per person for all WA venues.
You are allowed up to 100 people per single undivided space (indoor or outdoor)
A maximum of 300 people in total per venue over multiple spaces (This is known as the 100/300 rule)
Licensed premises may operate with seated service only
Alcohol may be served without a meal at licensed premises, but patrons must be seated
You must complete or update a COVID Safety Plan and having it available for inspection upon request by an authorised officer, and display a COVID Safety Plan Certificate in a prominent location visible to patrons
All hospitality staff must also complete an online hygiene training course before they return to work
The Government has released a series of FAQs regarding the easing of restrictions for entertainment, hospitality and food venues, which you can view by clicking here. https://www.wa.gov.au/government/publications/phase-3-easing-of-restrictions-frequently-asked-questions
WA's four-phase roadmap can be viewed by clicking here.
https://www.wa.gov.au/organisation/department-of-the-premier-and-cabinet/covid-19-coronavirus-wa-roadmap#phase3
WA Hard Border & Travel Restrictions
All non-essential travel into WA will be banned under plans by the State Government for a "hard border" guarded by police and soldiers.
Mark McGowan said he would discuss with National Cabinet a way to "completely shut down our borders from the rest of the country".
Talks are under way with resources and mining giants about the impact on their FIFO workforce, with BHP offering business critical interstate-based employees the opportunity to temporarily relocate to WA with their families.
The Premier said with 311 cases of COVID-19, WA had one of the lowest rates of spread in the country and "it appears we are positioning ourselves better than our eastern states counterparts".
While details of the hard border had yet to be confirmed, it would go a step further than the current requirement that new arrivals into WA self-isolate for 14 days.
"I'm considering a hard border closure. This will mean only Western Australians will be allowed into our state. The only exemptions will be essential purposes, which includes things like freight, medical, essential work purposes or compassionate grounds," Mr McGowan said.
"I have a clear message to people over east: if you're not a Western Australian and you want to come to WA, don't come. We don't want you. Stay at home.
"Western Australians who are still over east, if you want to come home, come hme now."
The Premier said he needed to do something to stop "people from the more infected ostates coming and infecting Western Australians".
WA'S BORDER MEASURES
Effective from 1.30 pm on Tuesday 24 March, new border controls will come into effect and apply to all roads, rail, air and sea routes into WA.
There will be limited exemptions for essential services and workers.
The Premier also said he was also investigating if some hotels could be acquired to use for self-isolation zones.
Unless exempted, arrivals from interstate will be ordered to self-isolate for 14 days.
The new measures will be enacted through a formal declaration under the Emergency Management Act.
The State Government was also actively considering turning Rottnest Island into a quarantine zone.
The Premier's statement can be read here.
LEVEL 4 TRAVEL RESTRICTIONS - DO NOT TRAVEL
The National Security Committee of Cabinet has raised the advice for all overseas travel to the highest level. Our advice to all Australians - regardless of your destination, age or health - is do not travel overseas at this time.
This is our highest travel advice setting – Level 4 of 4.


INTERNATIONAL ARRIVALS TO AUSTRALIA
The Australian Government has made it mandatory for all inbound international travellers to self-isolate for 14 days, effective as Monday March 16.
Self-isolation applies to everyone, citizens and visitors alike, who step off any international flight.

As part of the measure, cruise ships from international ports have also be banned.
Health and Safety Protocols
Click here for information regarding Coronavirus and Food Safety.
Health and Preventative Advice from the World Health Organization (WHO)
The World Health Organization (WHO) has been working with Chinese authorities and global experts to learn more about the virus, how it affects people, how they can be treated, and what countries can do to respond.
Because this virus usually causes respiratory illness, WHO has advice to people on how to protect themselves and those around them from getting the disease.
WHO's recommendations for the general public are as follows, which include hand and respiratory hygiene, and safe food practices:
Frequently clean hands by using alcohol-based hand rub or soap and water;
When coughing and sneezing cover mouth and nose with flexed elbow or tissue – throw tissue away immediately and wash hands;
Avoid close contact with anyone who has fever and cough;
If you have fever, cough and difficulty breathing seek medical care early and share previous travel history with your health care provider;
When visiting live markets in areas currently experiencing cases of novel coronavirus, avoid direct unprotected contact with live animals and surfaces in contact with animals;
The consumption of raw or undercooked animal products should be avoided. Raw meat, milk or animal organs should be handled with care, to avoid cross-contamination with uncooked foods, as per good food safety practices.
Click here to preview and print WHO's health signage to display in staff back of house areas.
For more information, read the latest transcripts and media releases from our Chief Medical Officer and our Deputy Chief Medical Officer about coronavirus (COVID-19) here.
Fact Sheets and FAQ's
As of 12 March 2020, the World Health Organization (WHO) has announced that COVID-19 is a pandemic.
The Australian Government's Department of Health has issued updated fact sheets for hotels, guest and hotel staff. Hotel management should provide information and brief all employees and contract staff, including domestic and cleaning staff, on relevant information and procedures to prevent the spread of 2019-nCoV to people in the hotel setting.
This information has been provided by the Australian Government's Department of Health and informs hotel management and staff about coronavirus.
This information has been provided by the Australian Government's Department of Health and informs hotel guests about coronavirus (COVID-19).
This information has been provided by the Australian Government's Department of Health and provides guidance on isolation and coronavirus (COVID-19).
COVID-19 self-declaration forms
Click below to download a copy of the self-declartion forms provided by the AHA(WA). These documents have been provided to reduce the spread of COVID-19.
The Department of Health have provided a dedicated phone number for WA venues to call if you require more information. Please call (08) 9328 0553 or for contact details for your local public health unit, please click here.
Chief Medical Officer Advice to Hotels
Australia's Chief Medical Officer, Professor Brendan Murphy has provided advice to Hotels regarding the virus and how it should be managed. Click here to see.

Novel Coronarirus and Food Safety
With many WA venues now providing delivery and takeaway food services, it is vital that businesses be extra vigilant with all aspects of health and hygiene, to ensure no-one contaminates the surfaces in your food service or processing environment because of illness or unclean habits.
Hospitality businesses that are able to pivot their restaurants, cafes or catering businesses into a 'take-away' option or offer 'ready-to-eat' meals (like pre-packaged meals or frozen meals) need to ensure that they are following best practice.

Please click here to access a handy guide that will help venues adhere to best practice when it comes to providing takeaway or ready to eat meals.
Food Standards Australia New Zealand (FSANZ) have also provided comprehensive information on food safety as it relates to COVID-19 and we encourage you to review their website.

Good hygienic manufacturing practices and thorough cooking for cooked products will minimise the risk of transmission and meet food safety requirements.
The FSANZ website contains important information that you should be aware of including:
General food safety advice for everyone
Advice for food businesses
How do I prevent people in my business transmitting the virus?
How can I properly clean and sanitise my equipment and facilities?
What if someone on my business premises is unwell?
Can the virus be transmitted through food?
To access the FSANZ website, please click here.
Global Update - COVID-19
The World Health Organization (WHO) has announced that COVID-19 is a pandemic
Across the world there have been more than:
113,190 new cases
6,287,771 confirmed cases
379,941 deaths
Find out how COVID-19 is affecting other countries on the World Health Organisation (WHO) website. View the:
This advice should be read in conjunction with the 'What you need to know' and 'Isolation guidance' information sheets.
Australia Update - COVID-19
The total number of confirmed COVID-19 cases, recovered cases and deaths recorded in Australia since 22 January 2020.
Total cases: 7,229
Total cases recovered - 6,640
Total Deaths 102
Total COVID-19 cases by states and territories
This table shows the total number of confirmed COVID-19 cases and deaths reported in each state and territory since 22 January 2020. State and territory totals reflect where the person normally lives, not where they were tested.
107 in the Australian Capital Territory
3,104 in New South Wales
29 in the Northern Territory
1059 in Queensland
440 in South Australia
228 in Tasmania
1,670 in Victoria
592 in Western Australia
To date, most confirmed cases are considered to have been acquired overseas although a large proportion are still under investigation to understand the source of infection. The majority of Australian confirmed cases acquired overseas had a recent history of travel to Europe or the Americas, predominately the United States of America.
At a glance
COVID-19 was first confirmed in Australia in late January 2020. This page provides a number of visual representations of information about COVID-19 in Australia since that time.
This 'at a glance' infographic includes all of the COVID-19 numbers, charts and tables on this page.

View text description and larger image of 'Coronavirus (COVID-19) at a glance' graphic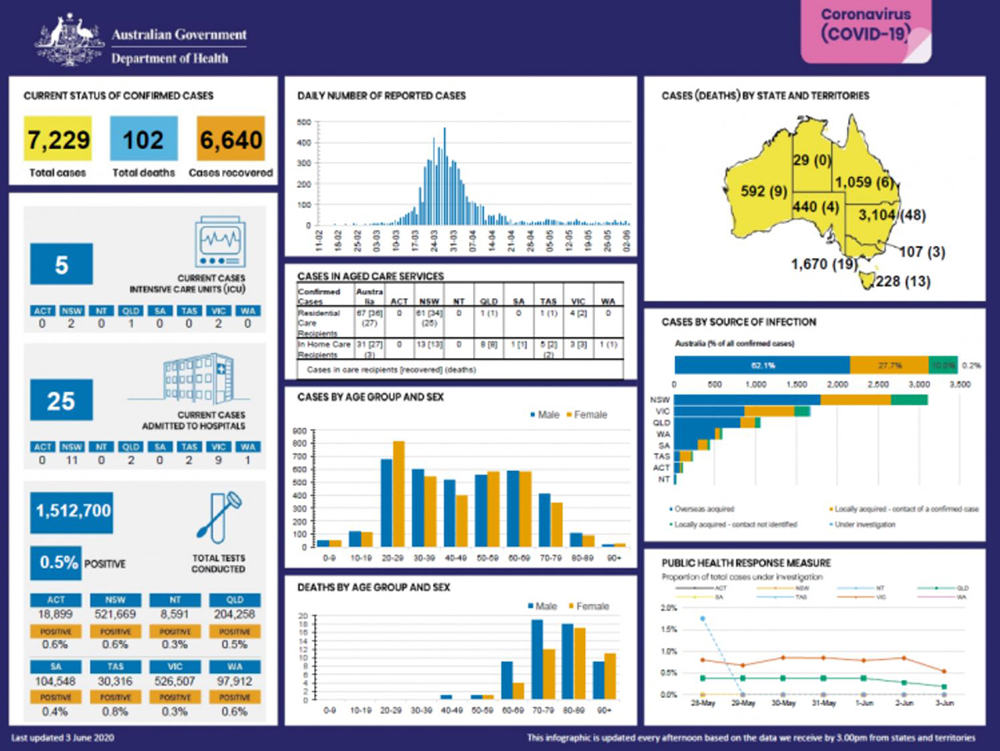 Reference Points
Australian Government Department of Health - Coronavirus (COVID-19) Resources avilable here.
Factsheets from the Australian Department of Health can be downloaded on their website.
The World Health Organization (WHO) produces daily Novel Coronavirus (2019-nCoV) situation reports. For details see here.
Updated WHO advice for international travel in relation to the outbreak of the novel coronavirus see here.
The Prime Minister has announced the activation of the Australian Health Sector Emergency Response Plan for Novel Coronavirus (COVID-19).
For more information, read the latest transcripts and media releases from our Chief Medical Officer and our Deputy Chief Medical Officer about coronavirus (COVID-19) in our news section.