Responsible Service of Alcohol
Online or Classroom RSA Training
The AHA(WA) offers a complete range of Responsible Service of Alcohol training solutions. From face-to-face classroom style RSA training to convenient online training and tailored onsite course delivery, the AHA(WA) can assist with your mandatory industry training requirements.
As the leaders of liquor training in Western Australia, the AHA(WA) has direct access to regulation and policy changes ensuring you learn only the latest up-to-date course material.
Online RSA Training - Nationally Accredited (SITHFAB009A)
---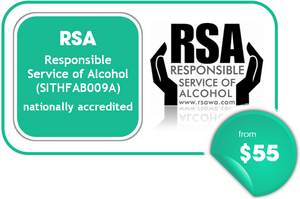 This nationally accredited course is valid in WA, SA and NT



The Responsible Service of Alcohol (SITHFAB009A) course is nationally accredited and a unit from the National Training Package.
While the RSA online course is nationally accredited, this online course isn't recognised in New South Wales. For Tasmania and Victoria, you should contact the relevant licensing authority to discuss mandatory training requirements.
Cost: $65 or Student Discount $55
New to Online Training? - Steps to Complete
Step One - Select one of the responsible service of alcohol course above by clicking on the register here green box
Step Two - Register your details (an e-mail will be sent to you with your username and password)
Step Three - Login with username and password
Step Four - Read and understand course content and complete assessments as required
Step Five - Process payment online (credit card or PAYPAL)
Your RSA Certificate will be e-mailed to you upon successful completion of assessments and receipt of payment
(an additional hard copy RSA certificate can be purchased for ONLY $9.00 - this option appears in the final payment stage)

PAYPAL payments - Important Note!
Please note that if you select to pay via PAYPAL you must have an existing verified account to pay through your bank account. You can no longer process 'one-off' payments with PAYPAL, this system has been implemented to reduce fraud attempts. If you do not have a PAYPAL account please note that the verification process can take a couple of days.
Don't have a PAYPAL account? - click here to set up one - it's easy!
Classroom RSA Training - Five (5) hour course
---
Provide Responsible Service of Alcohol (SITHFAB009A)

The Australian Hotels Association WA's Provide Responsible Service of Alcohol (SITHFAB009A) course is nationally recognised and a unit from the National Training Package.
Training with the AHA allows you to train with the experts. Our fully qualified training consultants have years of extensive industry experience to ensure you receive answers to your questions and knowledge specific to your venue.
Learning Outcomes
You will be able to demonstrate and understanding of;

Duty of Care
Harm Minimisation
House policies
People it is an offence to serve
People to whom service may be refused
Physical and social affects of alcohol
Juveniles on licensed premises
Identifying someone who may be 'drunk' in accordance
to the Liquor Control Act 1988
Strategies to use when refusing service and conflict resolution
Crowd controllers
Nominal hours: 5 hours over 1 day
Cost
Per Person: $120 AHA Members / $135 Non AHA Members
Onsite Delivery: Available. Please contact us for a quote
For more information about our responsible service of alcohol courses please call us on (08) 9321 7701