2.05.12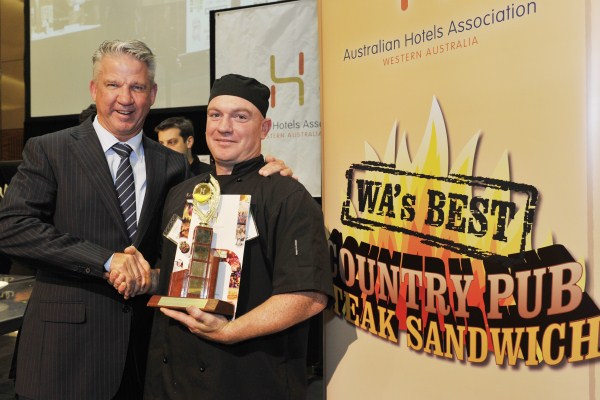 The Australian Hotels Association (WA) has announced the winner of WA's Best Country Pub Steak Sandwich 'cook off' 2012.
AHA (WA) CEO, Bradley Woods, said the response from the public and the industry to this year's competition has been better than ever with all five finalists reflecting the quality, taste and freshness of ingredients that is served in pubs, hotels and bars throughout WA's tourism regions.
"All five finalists served the judging panel an excellent steak sandwich, but there can be only one winner… this year the top honour goes to The Bridgetown Hotel," said Mr Woods.
"Second and third place went to the Mundaring Hotel and the Tambrey Tavern, in Karratha.
"Each year we search the regional areas of the State to find the best steak sandwich available at one of our great country pubs.
"The steak sandwich brings together everything that is great about our country pubs, from the home-styled cooking to the locally-grown produce.
"The Bridgetown Hotel was a previous winner in 2010."
The five country finalists faced each other at a 'cook off' to determine which steak sandwich is the best at the AHA Hospitality Expo 12 on Wednesday 2 May 2012 at Burswood Entertainment Complex.
The WA's Best Country Pub Steak Sandwich Competition is sponsored by Tourism Western Australia and beverage company Lion.
Ends
For further information please contact Chuck Ellis, AHA (WA) Public Affairs Manager on (08) 9321 7701, pubaff@ahawa.asn.au or 0410 503 301.